How a Digital Creative Agency Can Expand Your Brand
It's easy to be confused by all the terms out there—"ad agency," "marketing agency," "digital agency," "creative agency." But here's the deal: the hybrid known as digital creative agency, so long as it's fully stocked with experts who excel at collaboration, is your best bet for expanding your company's brand.
And we should know. Since 2016, Design in DC—a highly rated, award-winning agency—has helped boost the brands of dozens of clients, in multiple industries, in the Washington, D.C., region and beyond. Keep reading, and you'll find out how.
What, Exactly, Is a Digital Creative Agency?
On the one hand, it's simple—a digital creative agency is one which leverages the internet, and all of its technological tools, to promote a brand and deliver its products and services to specifically targeted audiences. Among the tools are email, social media, search engine optimization (SEO) and online ads, which connect a company directly with consumers who've shown an interest in what they have to offer.
"Digital marketing can allow a brand to literally become an integral part of your customer's daily life and feel far less like an interruption," digital marketing expert Rebekah Edwards once shared with a reporter for Rasmussen University.
But the concept behind a digital creative agency is also complicated. There are a lot of moving parts. And rightly so. You don't want your "tree" to fall without anyone hearing it. When you, meaning your company, debuts a new website—the online equivalent of your brand's megastore—you want every inch of that store to be accessible to potential customers.
We helped one company do just that recently. Reflexion came to us with a simple request: create a website which reflects its pioneering methods in cognitive sports training. But after our collaboration got underway, and because Reflexion, like Design in DC, is an innovator, we ended up partnering in many other ways.
There's a good reason why.
A Digital Creative Agency Works with Partners, Not Clients
So, let's say yours is a small to mid-sized company offering an incredible product or an entire fleet of exceptional products and services. You're unique and, in many ways, better than your competitors, but the world doesn't know it yet. If you're not ready to launch a massive ad campaign, which could cost hundreds of thousands of dollars, how do you get the word out?
Aside from a dynamic, highly navigable and revenue-generating website, you need a partner. A true collaborator who not only understands your company but knows how to best reflect your brand's culture and talents online. A partner who will find those thousands, perhaps even millions, of potential customers you haven't yet reached.
With each client, Design in DC engages in what we call "a discovery process," getting to know not just your company's history and employees, but the industry you're part of, where it's been and where it's going. We also get to know your current customers and how you communicate—or, perhaps, fail to communicate—with them.
We start by asking you questions, to gauge where your brand stands and where you want it to go. Among them are the following:
What are the goals of your brand?
What message or messages are you trying to communicate?
Who are you currently reaching with your website, and who are you trying to reach?
When someone visits your site, what do you want them to find?
There's a method to our discovery process.
"We don't call them 'clients,' but 'partners.' We're genuinely curious about what they do and want them to be active participants in improving their online presence and, in turn, their brand," explains Ziad Foty, co-founder and CEO of Design in DC. "The only real way to do that is get inside their heads. That way, we're on the same page and don't have to guess what our partner wants."
Reflexion, for example. Although the AI technology they use is extraordinarily complicated, the company wanted to demonstrate, in simple terms, how the tech boosts cognitive performance. So, with their input, Design in DC created an animated explainer video:

An organization in our hometown, DowntownDC, began its partnership with us by wanting to honor the recipients of its Momentum Awards. DowntownDC is a private nonprofit providing a 138-block Business Improvement District, or BID, with capital improvements, resources and research to keep the area clean, safe and economically strong. We made 15 videos total, sampled in this montage:
DowntownDC was so impressed, they asked us to also design their annual report as well as their communications strategy, covering everything from marketing services to newsletter and graphic design. We will also build a new website, one that's much more dynamic and easier to operate and maintain than the nonprofit's current site.
But we're getting ahead of ourselves. Once we get to know a partner, we get to know their customers.
Creating a Persona, Mapping Out Conversions
The next step in Design in DC's discovery process is the creation of what we call "personas," profiles of potential customers based on our research and a company's descriptions. The personas highlight who those customers are, their likes and dislikes and their familiarity with online tools and platforms. The personas allow website designers to put themselves in customers' shoes as they blueprint and construct a new site.
Recently, we did just that for HummingYard, an upscale online landscape design company, which, from the get-go, had a crystal-clear vision of their target clients. This enabled us to include three different personas in their discovery report. Here's what one looks like: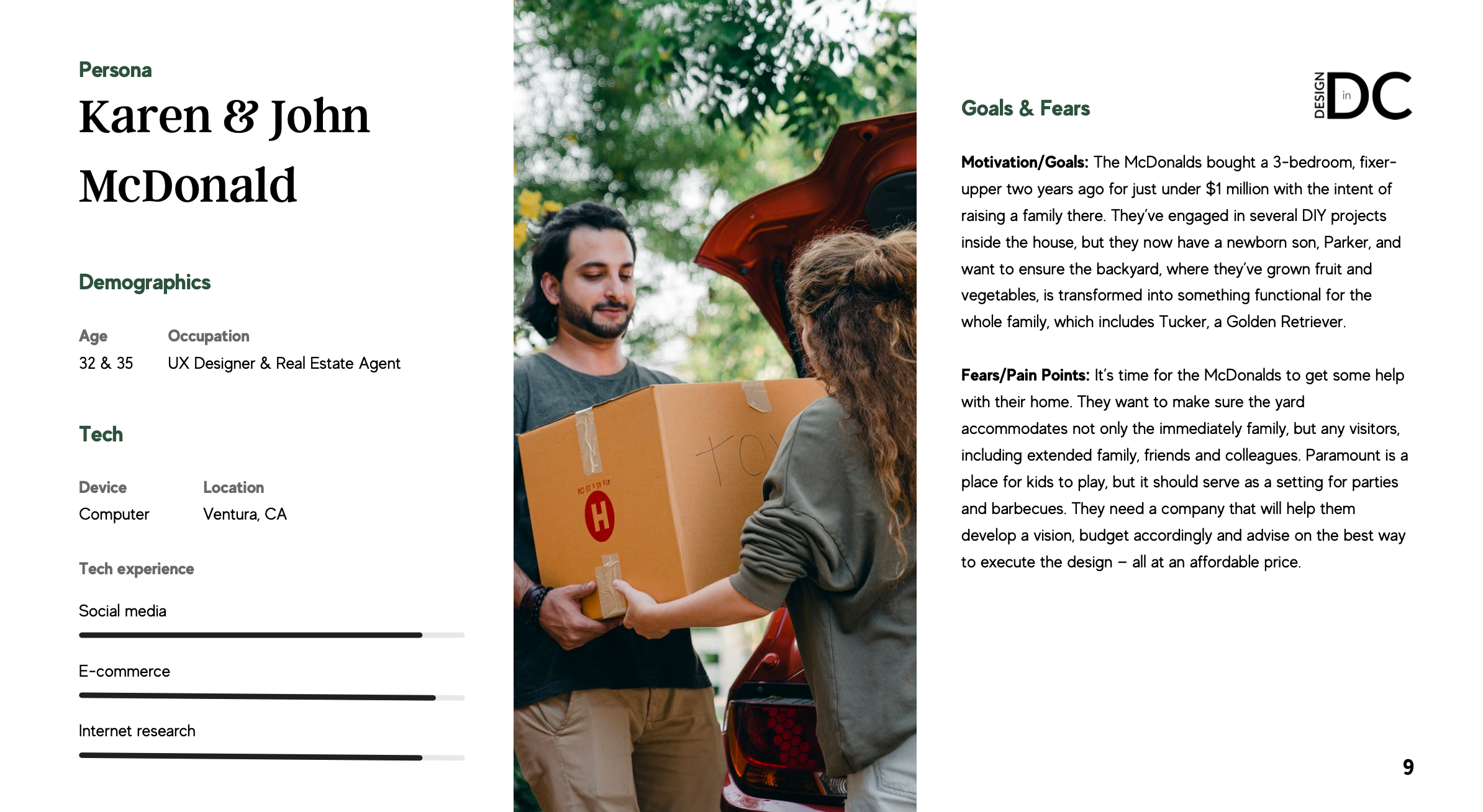 But we don't stop there. We also provide our partners with a "journey map." Based on data about a company's customers and stakeholders, it lays out how the website will be navigated in order to reach that ultimate end goal, a conversion.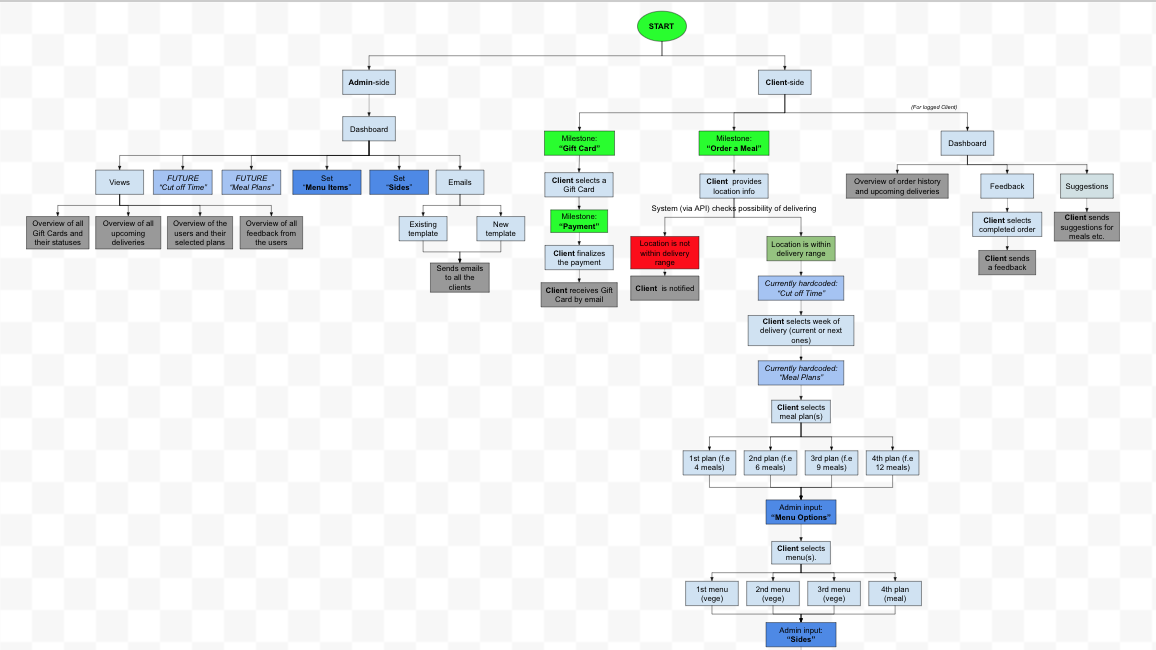 The best digital creative agencies use methodologies like these to form a strategy for your brand and website. By now you may be wondering,
Who's doing the strategizing?

The Dream Team
Any great creative agency has an indispensable creative team. And by "creative," we mean all the players who must perform vital, brand-building tasks, everything from technical to creative to marketing. Our team at Design in DC looks like this:
Project Manager, the main point of contact throughout the design-and-development process. PMs manage all aspects of a project, using tools like Slack, Google Drive and Asana to keep assets organized and promote transparency.
Creative Leadership, which offers creative design solutions while establishing a vision for your project.
Creative Team, which includes designers, illustrators, animators, photographers, videographers, writers and content strategists. With your input, they create the content for the website and larger marketing scheme.
Development Team, composed of front- and back-end developers turning your vision into reality and ensuring the website runs smoothly. They also create web applications (when necessary) to enhance the functionality of your website and brand offerings.
SEO Specialist, who ensures that your website is running quality content that will get you ranked on Google.
We don't just have one of these teams at Design in DC, we have several, a deep bench of experts who've been carefully vetted and have worked with dozens of companies and organizations.
One big industry we serve here in the Washington, D.C., region is, cybersecurity. As you can imagine, it demands that we know, and fully appreciate, all of the services finely honed artificial intelligence, or AI, can offer the corporate, government and military communities.

A couple years ago, we partnered with JFL Consulting, which wanted to turn a relatively pedestrian website into one which not only speaks to those clients but displays, in verbally and visually arresting ways, their services and one-of-a-kind product. So we employed what we call our "360-degree approach," transforming JFL's digital platform from every angle. We wrote optimized content from scratch, shot and integrated 3D product renderings, created a custom hero video and built out a client portal to compliment the new-and-improved site.
And, Now, It's Game Time
After a digital creative agency has done the research and gathered the right team, it's time to deliver. Our process involves the client every step of the way. We meet and discuss what the website should offer, how it should look and what it should feature, everything from product demonstrations to methods of payment.
We can't emphasize enough that any digital creative agency worth its salt must work closely with its partner. Step by step—as we test design, content and visual ideas—it's imperative that you provide detailed feedback, so that there are no surprises and, once the website goes live, you have everything you need to promote your brand.
A key player on our team is the SEO expert, who ensures that everything being plugged into a website—forms, keywords, blog posts, social media links—is connected, so that once your "megastore" opens, it's operating optimally from every angle.
With Reflexion, this meant creating not only explainer videos but also a free mobile app co-created with their partner Under Armour, to show how the cognitive training system works. It's been a big success, translating into traffic on the website and serving as brand promotion for both companies.
We perform similar tasks for many other brands.
For Summit Ridge Energy, the leading owner of community solar assets nationwide, we elevated the company's online presence by creating custom animation explainer and hero videos, optimizing content and integrating several dynamic infographics.
Working side-by-side with EXAMiT, an educational AP Physics platform promoting both learning and social connectivity, we launched an ongoing partnership. It began with creating a custom web app that is equal parts educational resource and social networking platform, complete with chat capabilities.
We're Here For You
To sum up, here's what you want from a digital creative agency:
A partner, not an agency looking for just another client
A collaborator who, from start to finish, proactively seeks and feeds off your input
A team overflowing with tech, creative and marketing experts
An agency that won't just design and develop a great website but expand your brand
As we've shown, Design in DC is more than capable of working with different kinds of partners in multiple ways. Check out our Work page for more proof.
We also invite you to read other blog posts, as they cover the many aspects of digital creative agencies' work and how Design in DC, in particular, excels in its profession.
And, as the rest of our website attests, we are a full-service creative agency which will likely meet all of your needs. To learn more, please reach out and start a discussion about how we may be able to help your business or organization expand your brand.

Also, feel free to leave your comments about this post below. And thanks for taking the time to read it!